16novAll DayDrystack Solent Discovery Guided Trip - Port HambleDrystack Solent Discovery: Port Hamble Event Organized By: Trafalgar Group & The Drystack Event Type :Guided trips / Discovery days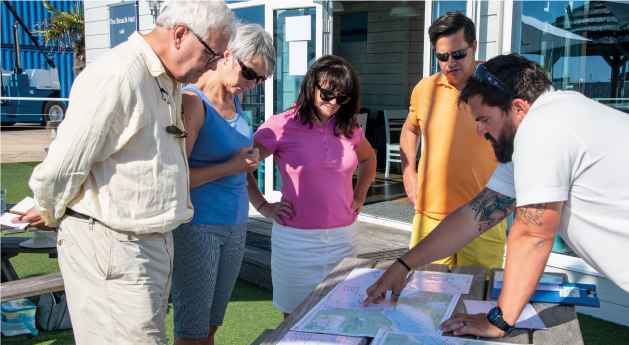 Event Details

There's simply nothing better than boating in good company, sharing experiences on the water and on shore, so why not join us for a Drystack Solent Discovery Guided Trip!

The trips are a fabulous way of getting on the water with like minded people whilst familiarising yourself with new boating destinations.
Explore some of the best parts of the Solent
Visit places you may not have gone to before on your own
Get great navigation advice and local tips from our fully qualified guide
How it works
Please let us know that you would like to join us.
Corinne will then call you to confirm the details and book your boat lift for the day of the trip.
Meet at 9am on the day, in the Beach-Hut Cafe for coffee and a navigation briefing from your instructor for the day.
You and up to 5 other boats will then head off for a grand day out following our qualified skipper, taking in any guidance needed along the way.
Marina slots will be pre-booked for ease over at Port Hamble. Please bring along some money to pay for a short-stay berth.
Some time then to enjoy ashore either by yourselves or with the group.
Re-group on the pontoons for another short briefing before heading back to Trafalgar Wharf.
About Port Hamble
Port Hamble Marina is on the River Hamble, right in the heart of the South Coast's sailing scene. With thousands of visitors every year, this busy marina is popular with racing enthusiasts and cruising vessels looking for an exciting atmosphere. The picturesque Hamble Village, with its inviting pubs and restaurants, is only a few minutes' walk away.
With superb riverside views, Hamble village and its quaint cobbled streets offer an alternative shopping and dining experience. Steeped in history, the village played a role in the World War Two D-Day landings, while its Common (set in 55 acres of heathland) uncovers the remains of Iron Age settlements and a Napoleonic gun battery.
Please state on the booking form you wish to join us to Beulieu River –
Drystack Solent Discovery Guided Trip.
Credit: Port Hamble
Credit: Visit Hampshire
more