02sepAll DayDrystack Solent Discovery Guided Trip - BembridgeDrystack Solent Discovery: Bembridge Event Organized By: Trafalgar Group & The Drystack Event Type :Guided trips / Discovery days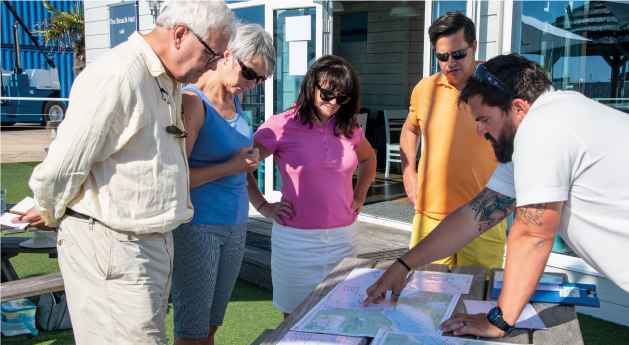 Event Details

There's simply nothing better than boating in good company, sharing experiences on the water and on shore, so why not join us for our first ever complimentary Drystack Solent Discovery Guided Trip!

The trips are a fabulous way of getting on the water with like minded people whilst familiarising yourself with new boating destinations.
Explore some of the best parts of the Solent
Visit places you may not have gone to before on your own
Get great navigation advice and local tips from our fully qualified guide
How it works
Please let us know that you would like to join us.
Corinne will then call you to confirm the details and book your boat lift for the day of the trip.
Meet at 9am on the day, in the Beach-Hut Cafe for coffee and a navigation briefing from your instructor for the day.
You and up to 5 other boats will then head off for a grand day out following our qualified skipper, taking in any guidance needed along the way.
Marina slots will be pre-booked for ease over at Bembridge. Please bring along some money to pay for a short-stay berth.
Some time then to enjoy ashore either on your own or with the group for a pub lunch.
Re-group on the pontoons for another short briefing before heading back to Trafalgar Wharf.
Due to the tidal access of Bembridge, we will be departing after 3.30pm (low-tide is at 1.30pm)
About Bembridge
As the village runs along the coast many of the things to do in Bembridge are related to the sea. The three beaches Lane End, the Ledge and Bembridge Beach are very popular for exploring with contrasting coastlines, rock pools and stunning panoramic views out to sea.
With its substantial harbour Bembridge is a very popular destination for sailing. On the Lane End Beach you will find the new Bembridge Lifeboat station which stands offshore to form a striking image.
The natural timber building was only completed in 2010 but has become one of the most iconic and most photographed structures on the Isle of Wight in recent years.
Another of the Isle of Wight's most recognisable pieces of architecture is Bembridge Windmill, on the outskirts of the village, which is maintained by The National Trust.
A short distance from Bembridge is Culver Down, the white cliffs of which can be seen from Sandown Bay all the way through to Shanklin. Read more about Bembridge…
Please state on the booking form you wish to join us to Bembridge –
Drystack Solent Discovery Guided Trip.
more