19aprAll DayDrystack Solent Discovery Guided TripDrystack Solent Discovery: Lymington Event Organized By: Trafalgar Group & The Drystack Event Type :Guided trips / Discovery days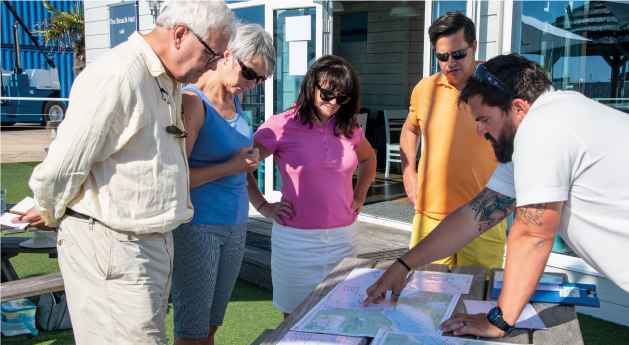 Event Details

There's simply nothing better than boating in good company, sharing experiences on the water and on shore, so why not join us for our first ever complimentary Drystack Solent Discovery Guided Trip!

The trips are a fabulous way of getting on the water with like minded people whilst familiarising yourself with new boating destinations.
Explore some of the best parts of the Solent
Visit places you may not have gone to before on your own
Get great navigation advice and local tips from our fully qualified guide
How it works
Please let us know that you would like to join us.
Corinne will then call you to confirm the details and book your boat lift for the day of the trip.
Meet at 9am on the day, in the Beach-Hut Cafe for coffee and a navigation briefing from your instructor for the day.
You and up to 5 other boats will then head off for a grand day out following our qualified skipper, taking in any guidance needed along the way.
Marina slots will be pre-booked for ease over at Lymington Yacht Haven. Please bring along some money to pay for a short-stay berth.
Some time then to enjoy ashore either on your own or with the group for a pub lunch.
Re-group on the pontoons for another short briefing before heading back to Trafalgar Wharf.
Please note that for this particular trip to Lymington we can only accommodate vessels up to 8m.
About Lymington
Set on the edge of the New Forest, Lymington is a beautiful harbour to discover. It's a little further up the Solent than you may have previously ventured making this guided trip the ideal opportunity to familiarise yourself with this stunning location ahead of the busy summer months.
The picturesque river estuary is packed with sailboats, moorings, marinas and private berths, a major south coast centre of boating. The harbour is easily accessible, with deep water access at all states of tide. Exploring up the River you pas will pass the famous Lymington Salt Water swimming baths, the Royal and Town Yacht Clubs, and the iconic Berthons Boat Yard before reaching the newly refurbished and extended Town Quay. There'll be time to explore ashore and have a bite to eat.
Please state on the booking form you wish to join us to Lymington –
Drystack Solent Discovery Guided Trip.
more