Trafalgar Wharf Helps Rowers with Trans-Atlantic Challenge
Trafalgar Wharf has signed up to help a team of four intrepid rowers take on the Atlantic this December.
You may see this in the press over the next couple of days…but here's a sneak peek.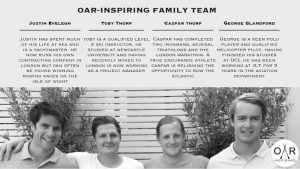 The Talisker Whiskey Atlantic Challenge is the world's premier annual rowing event covering more than 3000 miles from San Sebastian in La Gomera, Canary Islands to Nelson's Dockyard English Harbour in Antigua.
"Up to 30 teams participate from all around the world and Justin Evelegh is a good friend of mine" said Jonny Boys, MD of Trafalgar Wharf.

"To be honest, I think this challenge starting in December is pretty mad!"
"When Justin asked if we could store the boat and be their pre-race base of course we said we would help, especially as they are raising money for such a worthwhile charity."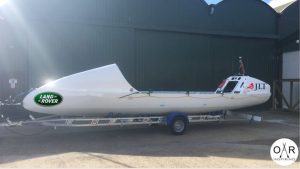 "The team at Trafalgar Wharf in Portsmouth are great and have been really encouraging" said Justin.

"It really helps us having a base like this before we start our row.

We'll be doing a few training rows on The Solent which we hope will prepare us for the Atlantic and get us used to our very special boat."
"We're raising money for the Starlight Children's Foundation which is a national children's charity that is dedicated to brightening the lives of children and teenagers suffering from a serious or terminal illness." Justin added.
"We know that this event is going to be extremely tough so we are delighted that along with our sponsors Land Rover and JLT, Trafalgar Wharf has become a very valuable part of this team."