Storm Gareth has blown so many boats out of the water, and there are thousands of boats like this at risk every time there's a storm.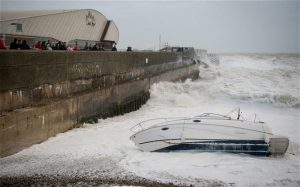 We hope this never happens to you.
Luckily there's a way we can guarantee it never will.
Give Corinne a call today on 0
2392 706384 and she'll have your boat
tucked up safe and sound in no time.
By the way, our prices are going up on the 1st April 2019, so pay your fully refundable £100 deposit before the 31st March to reserve your place and pay the 2018 price.
P.S. We didn't realise how many storms there have been in the last few months. It's 'Hannah' up next so act quickly.

UK storm names 2018/2019


Name Date of impact on UK and/or Ireland
Bronagh 20th to
21st September 2018
Callum 12th to 13th October 2018
Deirdre 15th to 16th December 2018
Erik 8th to 9th February 2019
Freya 3rd to 4th March 2019
Gareth 12th to 13th March 2019