The Phoenix has risen
Over the winter Trafalgar Drystack was used to test a prototype of an unmanned aerial vehicle (UAV) called Phoenix.
Designed to stay in the air indefinitely using a new type of propulsion, this airship with wings is a joint project involving five UK universities and three industry partners.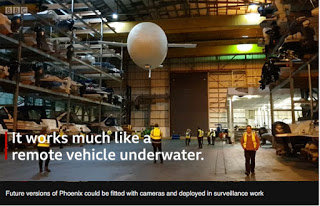 The prototype Phoenix was successfully tested inside the drystack's huge indoor space to protect the aircraft from the winter winds – although production versions would operate in all weathers.
It is hoped this technology could be used in the future to launch satellites into space or deployed in disaster relief and border control.
BBC News recently featured the Phoenix project with video shot during its trial at Trafalgar Drystack.