08junAll DayDrystack Solent Discovery Guided Trip - Beaulieu RiverDrystack Solent Discovery: Beaulieu Event Organized By: Trafalgar Group & The Drystack Event Type :Guided trips / Discovery days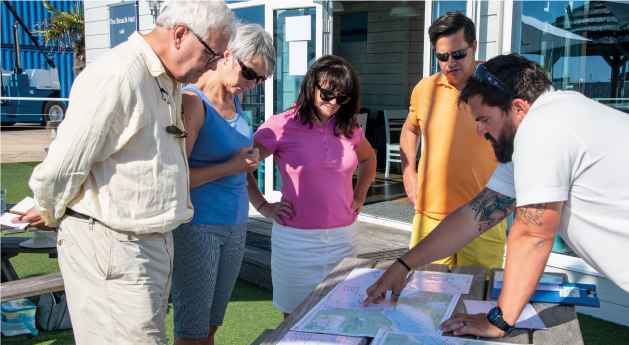 Event Details

There's simply nothing better than boating in good company, sharing experiences on the water and on shore, so why not join us for a Drystack Solent Discovery Guided Trip!

The trips are a fabulous way of getting on the water with like minded people whilst familiarising yourself with new boating destinations.
Explore some of the best parts of the Solent
Visit places you may not have gone to before on your own
Get great navigation advice and local tips from our fully qualified guide
Next up, we are heading to the stunning Beaulieu River on 8th June, and we would love it if you could join us.
How it works
Please let us know that you would like to join us.
Corinne will then call you to confirm the details and book your boat lift for the day of the trip.
Meet at 9am on the day, in the Beach-Hut Cafe for coffee and a navigation briefing from your instructor for the day.
You and up to 5 other boats will then head off for a grand day out following our qualified skipper, taking in any guidance needed along the way.
Marina slots will be pre-booked for ease over at Beaulieu River . Please bring along some money to pay for a short-stay berth.
Some time then to enjoy ashore either by yourselves or with the group.
Re-group on the pontoons for another short briefing before heading back to Trafalgar Wharf.
About Beulieu River
Beaulieu River is one of few privately owned rivers in the UK. Carefully conserved and under-developed, it's a stunning haven to visit by boat.
It has remained unspoilt and similar to how it was hundreds of years ago, with a discreet marina and modern facilities. We will travel as far down as Bucklers Hard so that you get to see the wonderful historic village, once an 18th century center of shipbuilding where ships were built for Nelson's Navy.
The maritime museum within Bucklers Hard is a fantastic place to discover the history of this fascinating village or explore the reconstructed cottage interiors to experience what life would have been like in the 18th century. Enjoy a cream tea at Captains Table or a pub lunch at The Master Builder, it really is a very special boat stop for the whole family.
Please state on the booking form you wish to join us to Beulieu River –
Drystack Solent Discovery Guided Trip.
more