02augAll DayDrystack Solent Discovery Guided Trip - Colwell Bay (anchorage)Drystack Solent Discovery: Colwell Bay Event Organized By: Trafalgar Group & The Drystack Event Type :Guided trips / Discovery days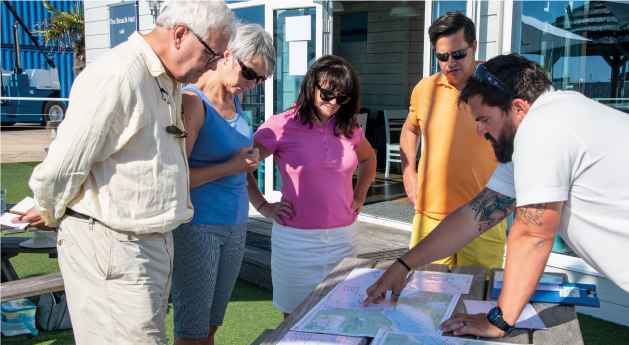 Event Details

There's simply nothing better than boating in good company, sharing experiences on the water and on shore, so why not join us for a Drystack Solent Discovery Guided Trip!

The trips are a fabulous way of getting on the water with like minded people whilst familiarising yourself with new boating destinations.
Explore some of the best parts of the Solent
Visit places you may not have gone to before on your own
Get great navigation advice and local tips from our fully qualified guide
How it works
Please let us know that you would like to join us.
Corinne will then call you to confirm the details and book your boat lift for the day of the trip.
Meet at 9am on the day, in the Beach-Hut Cafe for coffee and a navigation briefing from your instructor for the day.
You and up to 5 other boats will then head off for a grand day out following our qualified skipper, taking in any guidance needed along the way.
For this particular guided trip we will be dropping anchor in the bay! So please do bring along a picnic or why not make a reservation at the The Hut?
Re-group on the boats for another short briefing before heading back to Trafalgar Wharf.
About Colwell Bay
Colwell Bay is situated in between the famous Needle rock and lighthouse and the port of Yarmouth. With views across the Solent to Hurst Castle and Fort Albert, Colwell Bay is popular with families, holidaymakers, and locals who visit the gently shelving beach year in, year out; for either the traditional game of beach cricket or the regular banter with the locals.
A perfect place to relax and unwind in the summer months. Colwell bay has a unique friendly appeal, just busy enough in the summer months yet not overcrowded like some of the bigger beaches on the southern side of the Isle of Wight.
Please state on the booking form you wish to join us to Colwell Bay –
Drystack Solent Discovery Guided Trip.
Credit: Colwell Bay
more